A pool enclosure is a great way to protect your pool from the elements, but if you are looking for something more elegant, glass pools will be the perfect addition.
Why Do You Need a Glass Pool House?
A glass pool enclosure is a perfect way to cover up your pool's dilemma. Glass is a natural and trendy material that doesn't require much upkeep. It's also a very durable material that can last for many years. Plus, it doesn't absorb sunlight like other materials, so it won't cause your pool to become discolored.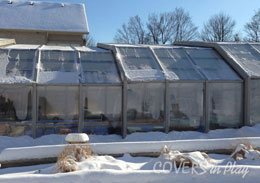 If you're looking for a way to cover up your pool's unsightly blemishes, a glass enclosure is a perfect solution. Not only will it give your pool an updated look, but it will also protect it from the sun and rain. You won't have to worry about water damage or fading colors when you have a glass enclosure installed on your pool.
Choosing a Glass Pool Enclosure
There are many factors to consider when choosing a glass pool enclosure. The size, shape, and materials used will all affect the final product. Here are some tips to help you choose the best option for your needs.
Size: A glass pool enclosure can be as large or small as you need it to be. If you only have a small pool, a smaller enclosure may be best. If you have a large pool, a larger enclosure may be necessary to keep it covered.
Shape: Pool enclosures come in all shapes and sizes, from square to hexagonal. You'll want to choose the shape that best suits your needs and your pool.
Materials: Pool enclosures can be made from a variety of materials, including glass, metal, and plastic. Materials will affect how much heat the enclosure will generate, how durable it is, and how much glare it will create.